FCEL (NASDAQ:FCEL), Bloom Energy (NYSE:BE), and Doosan Fuel Cell America (Doosan, privately held) won a combined total of 52 MW in the CT DEEP's recent clean energy RFP, the results of which were announced on June 13, 2018. The breakdown was 22 MW for FCEL, 10 MW for Bloom, and 20 MW for Doosan. The next step is for Eversource Energy (NYSE:ES) and Avangrid (NYSE:AGR) unit United Illuminating to negotiate 20-year power purchase agreements for the projects DEEP selected.
Fuel cells are: (1) modular; (2) quiet; (3) have a small geographic footprint; (4) unobjectionable in urban and suburban locations; and (5) resilient during natural disasters. With proper siting, fuel cells can allow a utility to avoid or delay transmission infrastructure investments.
One helpful development is that fuel cells now get the Investment Tax Credits (ITCs) that go to wind and solar, providing a level playing field. ITCs comprise almost half of the return for wind developers. Nevertheless, important challenges remain for fuel cells.
While the short-term prospects of FCEL, BE, and Doosan are uncertain, a case can be made that utility-scale fuel cells could play an important role in the future of the electricity business. BE's stock price has done well since its IPO (July 25, 2018) issuance of 18 million shares, rising from an issuance price of $15 to $25.51. During the same period, FCEL's stock price has fallen from $1.37 to $0.95.
There are large-scale base load fuel cell systems in place in South Korea, California, Connecticut, and other places. Long Island Power Authority (LIPA) in NY anticipates having a 40 MW fuel cell system in place by 2020 that is expected to have a 95% capacity factor (compared to, say, 30% for wind and 15% for solar) and that would avoid the need for transmission investment of about $75 million in an area where additional transmission lines would be unpopular with the public.
Top-10 List Of Important Long-Term Issues in the Electricity Arena
1. The U.N.'s recently-published climate change report on limiting climate change to 2.7 degrees Fahrenheit (1.5 degrees Celsius) says that we (the planet Earth) may have as little as 12 years to meet this target. The U.N. report finds that limiting global warming to 1.5° C would require "rapid and far-reaching" transitions in land, energy, industry, buildings, transport, and cities. The hydrogen economy—including baseload utility-scale fuel cells along with fuel cell powered vehicles—would have an important role to play in the effort to meet this target.
2. Clean up electricity via renewables and zero-carbon resources. An electricity grid can produce greener electricity over time by running cleaner resources more and dirtier resources less. Stand-alone resources, such as cars that rely on gasoline and a combustion engine, can't do this. Being part of a grid has always been important in dispatching generation resources in a manner that reduces the cost of electricity. When available, intermittent resources, such as wind and solar, are often least-cost from the standpoint of economic dispatch and reduce CO2 emissions relative to natural gas or coal resources. Dispatching resources to both reduce carbon emissions and use the most economically efficient resources as much as possible complicates things, but is do-able.
3. Electrifying everything is key to reducing CO2 emissions. Being part of an electricity grid means that all the electricity on that grid is "in carbon/climate terms, as clean as that grid." [Note that those electricity users that want an assurance that their electricity use is "green" can buy electricity from an electricity marketer that either produces "green" electricity itself or buys renewable energy certificates.] Brattle Group (Brattle) performed a study of potential electricity usage in the U.S. for 2016 to 2050 and the related potential for declining carbon emissions. As I discussed in an earlier Seeking Alpha article, Brattle suggests that electricity usage could nearly double by 2050, while associated carbon emissions could decrease by 70%. This means that an important policy goal, as discussed here, would be to "encourage substitution of electricity for fossil fuels" that "may in some cases increase electricity consumption." Thus, it would be important for policymakers to avoid enacting policies that would penalize a state for increasing electricity usage resulting from the shift of transportation and building heat to the electricity grid. Moreover, more electric transmission infrastructure (and a more integrated transmission system) would be needed to efficiently accommodate the electrification of the economy.
4. People want 100% renewables. The public likes the idea of having 100% renewable energy ASAP. The electricity industry, i.e., the Edison Electric Institute or EEI, is not wrong to argue that 100% renewables would affect the cost and reliability of electricity service and isn't feasible at the present time. Polling and research on behalf of EEI, however, found that 74% of respondents think we should use solar as much as possible and 70% agree that we should produce 100% of our electricity from renewables. Half of the respondents think that 100% renewables are a good idea even if this raises utility bills by 30%. Indeed, clean energy has been a "political juggernaut" for a while now. According to DSIRE, hydrogen and fuel cells are classified as baseload renewables in a number of states, including CT, DE, IN, NY, OH, OK, and PA, even though natural gas is often used as the source of the hydrogen.
5. It may be better to focus on both renewables and zero-carbon resources, as California has done. Sepulveda, et al. discuss this issue in a podcast here, a paper here, an MIT News summary here, and a National Wind Watch summary here. Sepulveda, et al. conclude that the availability of firm low-carbon resources reduces costs 10% to 62% in zero-CO2 cases and that absent low-carbon resources, electricity costs rise rapidly as CO2 "limits near zero." As one example of this approach, CA Senate Bill 100, which was approved by the CA legislature and signed by the governor in September 2018, adopted an additional goal that 100% of all retail sales by 2045 come from renewable energy resources and/or zero-carbon resources. Solar and wind are inherently intermittent in nature and therefore baseload resources such as fuel cells would also be needed. Zero-carbon resources could include fuel cells, nuclear, biomass, fossil fuels with carbon capture and sequestration, among others. Fuel cells can be zero-carbon resources and can be used to ease the capture and sequestration of carbon.
6. The "duck curve" is a serious threat to solar and a big problem for renewables that needs to be solved. Solar and wind are intermittent resources that are used when available, i.e., they are not "dispatched." Net load as shown below is total load minus intermittent load. As illustrated below, net load droops more and more during the day as more intermittent resources are used. The "duck curve" is expected to get worse as the role of solar and wind increases over time. That's a big problem for large-scale nuclear and coal units that are baseload and not easily turned off and on. Nuclear is zero-emissions (although not without other problems) so it makes sense to make an effort to keep existing nuclear plants up and running as IL, NY, and CT have done.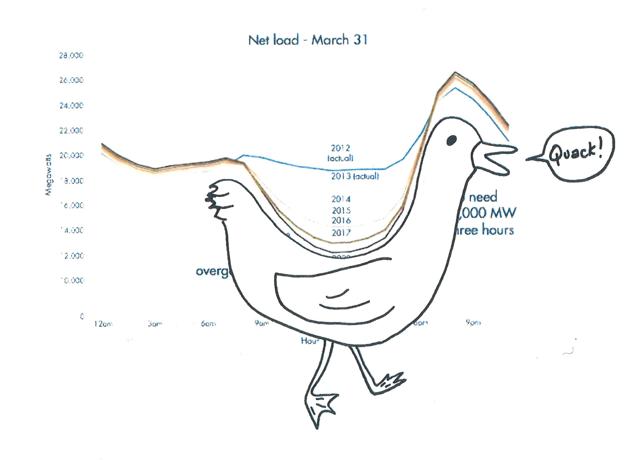 Coal-fired electric generators are not likely to be as fortunate. As I explained here, however, "[s]tate public utility regulators do not seem to be focusing on the need for renewable and/or zero emissions baseload resources to displace coal resources and to replace nuclear plants that are nearing the end of their useful lives." To the extent that coal's role in serving electricity load declines over time, other baseload resources would likely be needed.
7. Energy storage tends to increase energy use and emissions. That may not always be the case, but currently, storage usually results in "more fossil-fueled energy and higher carbon emissions." The blue line below shows total load peaking in the early evening (6:00 p.m. to 10 p.m.) period when solar and wind are less likely to be available compared to the late morning and afternoon hours. For the most part, storage is currently used to store baseload coal and nuclear resources that can't easily turn off and on and thus are likely to want to keep running during the midnight to 8:00 a.m. period even if demand is low, which can result in a negative wholesale cost of electricity at low-demand times of the day. Eventually, if solar and wind become ubiquitous, that could change, with daytime solar resources being stored and then used at the evening peak. For now, storage may be helpful in the operation of the electric utility system, but it probably does not provide much help in reducing carbon emissions.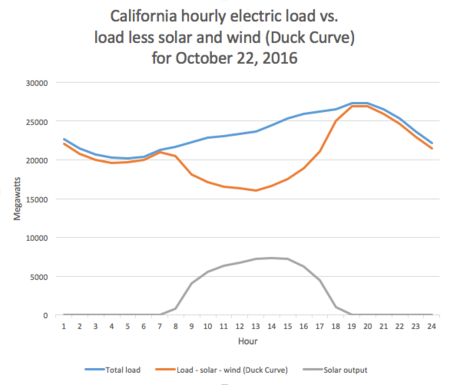 8. Carbon capture and sequestration. FCEL has carbonate fuel cell technology (supported by numerous patents) that can be used to concentrate CO2 emissions from, say, 10-15% to 90% for natural gas and from, say, 5% to 90% for coal. The problem is that a lot of fuel cells would be needed to accomplish this on a large scale, per a Cowen analyst. I'm skeptical that electric utilities that own coal plants will want to invest in 100s of MW of fuel cells in order to facilitate carbon capture and sequestration. However, a DOE-funded pilot project in Alabama is underway at the Barry coal plant owned by Alabama Power. ExxonMobil is funding a fuel cell pilot project (also at the Barry plant) that is focused on capture carbon from gas-fired electric plant. Electric utilities that own natural gas generating plants would be more likely to be interested in capturing and storing concentrated carbon emissions. It is currently unclear whether or not construction has begun on the pilot project, but I expect that construction will begin soon in order to meet the 4Q2019 target commissioning date.
9. The "golden age of natural gas" isn't over yet in the U.S. Regulatory reform of the natural gas industry is a major success story for the American economy that has led to a golden age of gas–and may prove to be an underpinning of U.S. economic growth for many decades. Natural gas-fired generation isn't a zero-emissions resource at the present time, but it's a lot better than coal, so it is likely to continue to be a bridge to a renewable and zero-emissions future. This may continue to be true even as solar/wind/batteries have fallen markedly in cost in recent years. On the other hand, Bill McKibben and others argue that the lifecycle methane emissions from natural gas generation are much worse than previous estimates had suggested. There may be ways to solve this problem though. Utility regulators in AZ have rejected the integrated resource plans (IRPs) of the AZ electric utilities because of concerns about the risk of too much reliance on natural gas. CA is looking at ways to keep natural gas's share of electricity production from growing. Moreover, natural gas may be becoming uneconomic in terms of electricity production in the U.S., with U.S. natural gas increasingly becoming an export product via new and potential gas LNG terminals.
10. Inflexible generating plants with high off-peak must-run requirements should be retired. Jim Lazar sets forth 10 strategies to "teach the 'duck' to fly." Natural gas resources currently have significant lifecycle methane emissions as do coal resources. Nuclear is better in terms of emissions but raises other concerns. The electricity grid of the future will likely rely heavily on intermittent resources, which will tend to limit the role and value of older coal, gas, and nuclear plant have "high fixed costs and limited flexibility to ramp up and down." As these inflexible units are decommissioned, they likely will be replaced with a mix of renewable energy, storage, and flexible fuel cell and natural gas resources.
Fuel Cells and Hydrogen May Plan an Important Role in the Utility of the Future
Fuel cells that use hydrogen to produce electricity are unusual in that they are baseload plants that nonetheless can be dispatched to a considerable extent to follow load and that can be considered renewable resources and, if done right, would have near-zero emissions.
While it is possible that the combination of solar, wind, and batteries may eventually mitigate some of the need for baseload resources, as baseload coal, nuclear, and gas resources are retired some other type of baseload resources may be needed.
Disclosure: I am/we are long FCEL AND FCELB.
I wrote this article myself, and it expresses my own opinions. I am not receiving compensation for it (other than from Seeking Alpha). I have no business relationship with any company whose stock is mentioned in this article.
Editor's Note: This article covers one or more microcap stocks. Please be aware of the risks associated with these stocks.